The Portable Head is a quarterly fortnight-at-a-glance calendar from Wonderella Printed. Its first issue was published in the fall of 2001, quarterly issues have been published ever since. Long unavailable through the Wonderella website, The Portable Head has returned and is ready to help you organize your days.
Each issue of The Portable Head features intriguing cover art either from new artists or from classic painters and illustrators. The pages inside are divided into fortnight-at-a-glance spreads with named full moons, new moons, and major secular and religious holidays (Buddhist, Christian, Jewish, and Muslim) indicated. Because of the calendar's quarterly frequency, readers can start or stop using The Portable Head at any time during the year.
The Portable Head is printed digest size, or 8.5 inches x 5.5 inches.
SUBSCRIBE
Subscriptions to The Portable Head cost $15 for four quarterly issues. Please indicate whether you would like to begin your subscription with the current or upcoming issue.
$15.00


SINGLE COPIES
Single copies of The Portable Head are available as indicated in the issue descriptions below.
Click any of the cover images below for a closer look.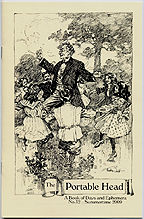 July through September 2009. Celebrate summertime with Franklin Booth's festive cover drawing on this issue of The Portable Head. 16 pages, 2 illustrations.
$5.00




Portable Head Cover Gallery
Past issues of The Portable Head are no longer for sale.
April through June 2009. J.W. Waterhouse's 1903 painting Windflowers breezes you into your springtime with this latest edition of The Portable Head. 16 pages, 2 illustrations.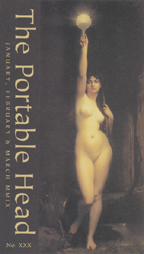 January through March 2009. The unmatchable painting La Vérité (Truth), by Jules Joseph Lefebvre graces the cover of the comeback issue of The Portable Head. 16 pages, 2 illustrations.