Wonderella Printed offers a printed catalog of publications to its readership and stores. The catalog includes prices and descriptions for all the works we offer. Ordering information for individuals and retailers is included with the catalog.
The catalog is free for the asking. If you would like a copy mailed to you, please send us an email asking for it. Be sure to include your mailing address with your request.
The Wonderella catalog is printed digest size, or 8.5 inches x 5.5 inches.
Click on the cover image below for a closer look.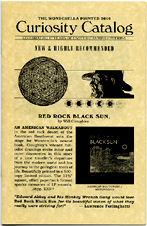 Wonderella Printed 2010 Catalog: Includes prices and descriptions for Red Rock Black Sun, Tomb of Illumination, The Mentalist's Handbook, Aetheric Beings prints, The Museum of Lost Wonder (book, posters, and model kits), The Camelopard, The Pamphleteer, Wandering Wizards Welcome, and The Little Wonder Series. 16 pages, 16 illustrations.
Free
Email us to request a free catalog.

Past Catalog Cover Gallery
As new Wonderella catalogs are printed, we will archive the covers of previous catalogs here. Click on the image to see a larger version of the cover.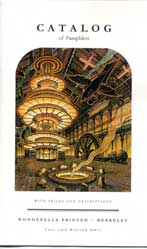 Wonderella Printed Fall 2002 Catalog: Includes prices and descriptions for The Camelopard, Little Wonder, Guide to Lost Wonder and the Lost Wonder posters and model kits, The Portable Head, Pipu, Go, Phooka, and Jacaré. 24 pages, 49 illustrations.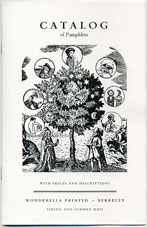 Wonderella Spring 2002 Catalog
The image on the cover of this catalog is an update on the frontispiece of the alchemical text Gloria Mundi. The orbs in the original work held miniature scenes representing Air, Fire, Earth, Water, Sulphur Mercury, and Salt. For our cover we replaced these essential substances with illustration details from seven of our pamphlets. Moving clockwise from the lower left-hand corner, the details are from Aetheric Exercises, Phooka 427, The Portable Head 2, Jacaré 6, Go 1, Guide to Lost Wonder 8, and On Gnoming.