The Wonderella Archive acts as a virtual bookshelf bursting with titles no longer available from Wonderella. Where possible, we have indicated alternate sources for these deserving reads. Click to skip directly to:
Go Megazine
Jacaré
Phooka
Pipu
Victorious Egret
Museum of Lost Wonder 2009 Calendar
Museum of Lost Wonder 2008 Calendar
Wonderella Printed 2007 Calendar
Full information on each series can be found by clicking on the cover scans below.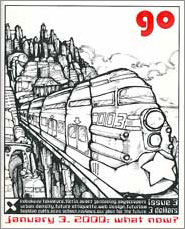 Go Megazine
Go Megazine started off as an ultra-futurist, synthetic culturalist journal of social and spatial engineering with the hopes of creating a new and complete urbanism based on the art and philosophical movements of the 20th century.
Remaining issues in this series can be ordered by contacting its creators, Katie and Sean Äaberg, P.O. Box 12044, Eugene, Calif. 97440.


Jacaré
Jacaré was published in 1997, and celebrated the good things about life in the San Francisco Bay Area. When it wasn't extolling the virtues of various breakfast eateries, it was giving reports on fun drives down the coast, tasty adventures in the kitchen, and busy weekends full of fun.
There has been talk of publishing a small book reprinting some of the more popular articles from this series. If such a book would interest you, please write and let us know.


Phooka
Wonderella Printed published issues 425–428 of the venerable Phooka, the Journal of the Overland Mallet Club. Founded in 1891, the OMC sought out members who shared three very distinct interests: overland croquet, hard liquor, and the natural history of the Fairy Kingdom.
Facsimile editions of back issues of this series are available. Please click the link below for ordering information.

Read more about Phooka



Pipu
"One day in North Oakland, Sean and Katie decided to go on an adventure." So begins the story of Pipu, a little Easter chick rescued from the Super Big Store and brought to a chicken coop on top of an apartment building in Oakland.
Pipu is now entirely in the capable hands of its creators, Sean and Katie Äaberg, who have re-released the Pipu stories in a new format, one which involved the redrawing of every single page of the series. Information on this new edition may be found by emailing Sean and Katie Aäberg.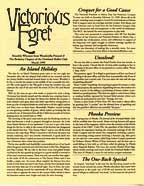 Victorious Egret
This monthly publication only lasted two months, but its short life documented the antics of the Berkeley chapter of the Overland Mallet Club at its heyday.
Victorious Egret has been discontinued.
Read more about Victorious Egret
Museum of Lost Wonder 2009 Calendar
The journey through time continues! This year's calendar has twelve beautiful images from The Museum of Lost Wonder, notes from the history of the human imagination, and a do-it-yourself scrying mandala.
Read more about the 2009 Calendar
Museum of Lost Wonder 2008 Calendar
Take a year-long tour through the Museum of Lost Wonder. The calendar features twelve gorgeous full-color images, historical events for every day of the year, and a do-it-yourself model of the universe!
Read more about the 2008 Calendar
Wonderella Printed 2007 Calendar
Unstoppable artist Sean Goblin has drawn a panoramic representation of the four seasons for this year's Wonderella calendar. Take a closer look and order your copy at the Calendar page.