You've witnessed them in visions, seen them in dreams, and even peeped at them on the inside dustjacket of The Mentalist's Handbook. Now you can help these incredible creatures step out of the aether and onto your wall!
Drawn by Jeff Hoke and presented on heavy archival fiber stock, this trio of fine prints pictures some of the most fantastic creatures in the "Aetheric Beings" chapter of Clint Marsh's The Mentalist's Handbook.
These one-color prints are mailed flat and are printed letter size, or 11 x 8.5 inches. All prints are signed by Jeff Hoke, and are suitable for framing.
Click any of the images below for a closer look.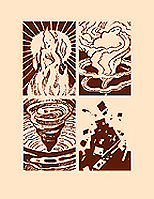 The Four Elementals. Representing the intelligences of the realms of fire, air, earth, and water, the elementals remind us of the building blocks of all material life.
$25.00